Highlands & Islands Labour MSP, Rhoda Grant, is helping the charity RNIB Scotland mark National Eye Health Week this week by urging people to go for a free eye examination at their local optometrist.
To highlight the message, RNIB Scotland has produced a series of special coasters featuring iconic Scottish landmarks as seen through different sight loss conditions.
Images include Edinburgh Castle (as seen through age-related macular degeneration), the Callanish Stones in the Western Isles (as seen through diabetic retinopathy) the Dundee Victoria and Albert Museum (as seen through glaucoma) and Buchanan Street in Glasgow (as seen through cataracts).
Rhoda Grant MSP has agreed to help distribute these images (attached) in the Highlands and Islands region.
She said "I am pleased to be given the opportunity from RNIB to help raise awareness of these issues. Many people throughout the Highlands and Islands could well be suffering with some of these conditions without actually realising it.
"One of the images is Callanish Stones in the Western Isles. Many people visit this iconic site daily and this image shows how people suffering diabetic retinopathy may see the Stones.
Mrs Grant concluded "These images are startling for those of us who are fortunate enough to have retained good eyesight but who knows what lies round the corner. I hope therefore this will encourage everyone to make that visit to their local optometrist to get a free eye check.
Cate Vallis, policy and campaigns officer for RNIB Scotland, said: "With many sight loss conditions, damage to vision can be arrested or even reversed if the symptoms are detected early enough. Glaucoma, for example, can usually be successfully treated. That's why it's so very important that people do get their eyes examined every two years.
"Our coasters are just one way of getting this message out to more people. The distorted images of the Scottish landmarks will hopefully make them think a little more about what we might miss if we lose our sight."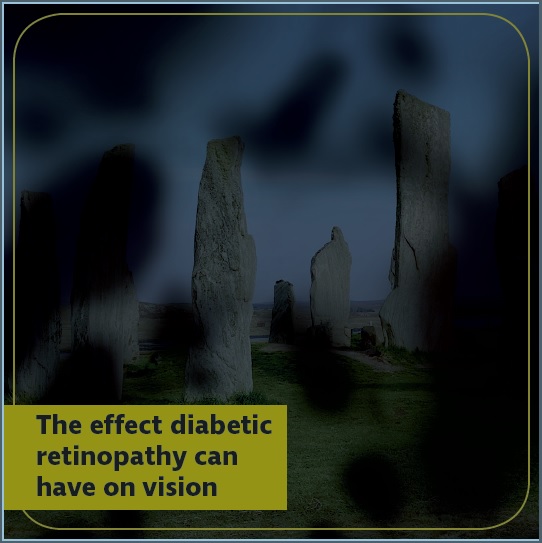 National Eye Health Week runs from Monday, 23 September 2019 – Sunday, 29 September 2019