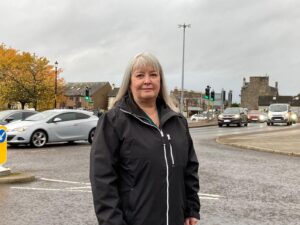 Highlands and Islands Labour MSP, Rhoda Grant, has been advised by Transport Scotland that temporary warning signs are being erected on the trunk road approaches to the pedestrian crossings at both sides of the Friars Bridge in Inverness, with permanent warning signs and improvement to existing markings also being implemented in the new year.
This follows the MSP's representation to the Scottish Government about the danger to pedestrians at the Telford Street roundabout where many users think the traffic lights at the Aldi store are too close to the roundabout.
Rhoda Grant said "I am pleased that the concerns I have raised on behalf of constituents have been heard and I hope the new warning signs, when in place, will go some way to reducing the risk to pedestrians and cyclists in these areas."
Mrs Grant has been advised that the design of permanent warning signs and improvements to the existing road markings are currently ongoing and Amey hopes to implement these measures early in the new year, subject to the delivery of materials and any potential weather impacts.
Transport Scotland advise that they have instructed Amey to accelerate these works where possible, and that the temporary warning signs will remain in place until the permanent improvement works have been completed.
Mrs Grant said "It's not clear yet exactly what the design for the permanent signage and improved road markings will be, and whether these will be enough, but it's a start and I will be keeping in touch with Transport Scotland about this."