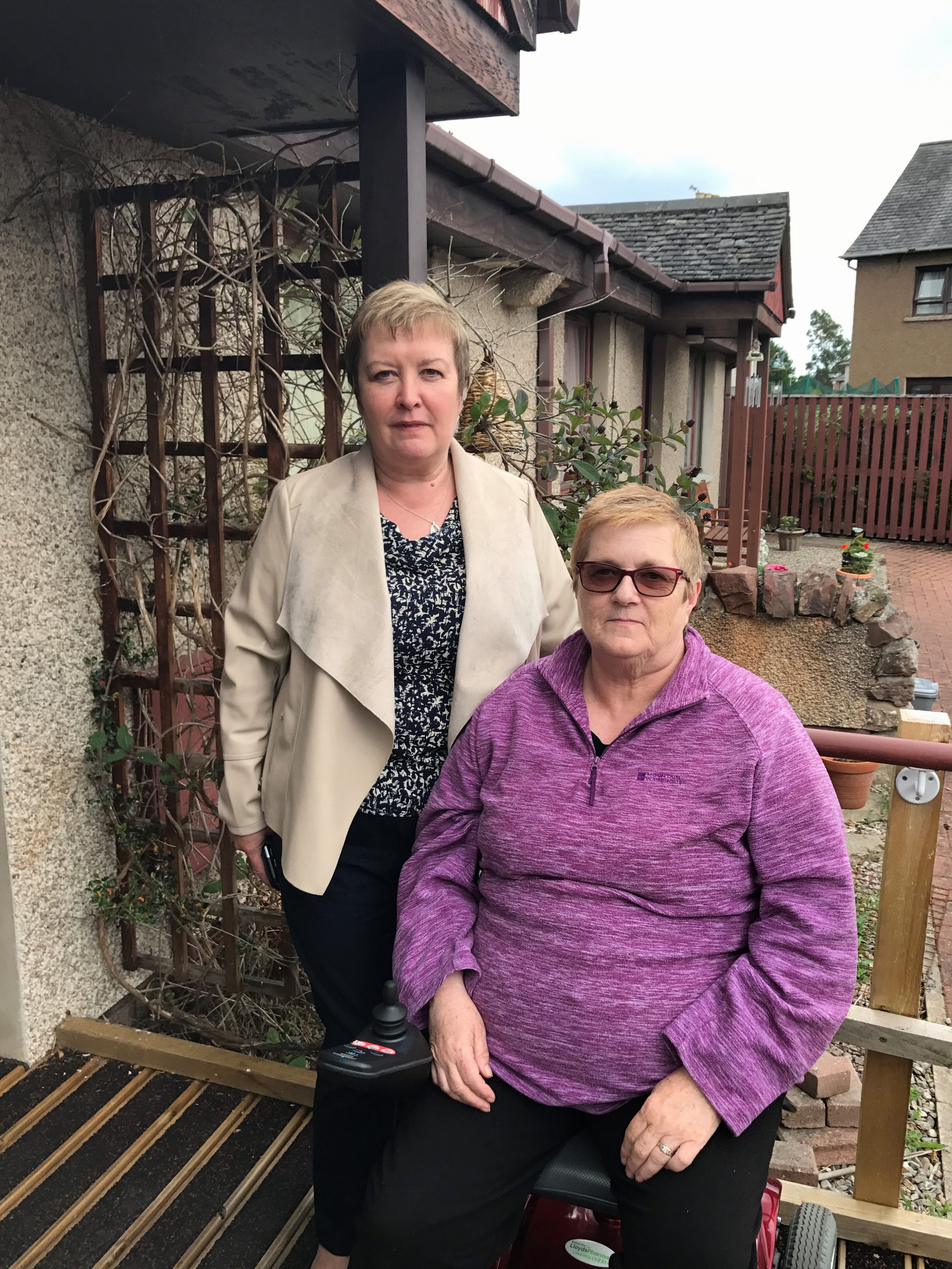 MSPs on the Scottish Parliament's Public Petitions Committee have today (Sept 10) agreed to hear evidence from a leading Consultant Neurosurgeon to support an Inverness campaigner's petition for the introduction of focus ultra sound technology to Scotland to treat people with Essential Tremor.
Mary Ramsay, from Dalneigh, Chair of the Scottish Tremor Society, is asking the Scottish Government to back the provision of magnetic resonance-guided focused ultrasound (MRgFUS) equipment costing an estimated £1.6million.
Today her MSP, Labour's Rhoda Grant, spoke to the cross-party committee asking for the petition to be kept open and highlighting that campaigners were keen that the committee hear oral evidence from Professor Dipankar Nandi, a leading medical expert in the field, and also view a short video of a patient's experience of the treatment.
Committee Convener, Johann Lamont MSP, said there was a consensus that there was still an issue to be followed up and the committee would seek to hear from the Professor, if not in person but by some other means.
Mrs Ramsay, who watched the virtual session from home on parliamentary television, said afterwards she was in tears at some of the emotional statements from MSPs.
"I'm absolutely delighted that the petition is remaining open and that they are going to hear from the professor. I am also hopeful that they will see the video on Geoff Sleight the patient who has benefited from the treatment. It's quite remarkable the difference it has made to his life.
"I will not give up until this is available on the NHS."
During the committee session, Mrs Grant, who represents the Highlands and Islands, said there was a definite sense of frustration that magnetic resonance-guided focused ultrasound (MRgFUS) technology was not yet available in Scotland but was in England and in other places throughout the world.
"Add to this, an energetic fund-raising campaign to make this equipment available to the whole of Scotland and you can see why the campaigners with Essential Tremor and their families are anxious that this committee and the Scottish Government really recognise the benefits of the therapy and how it can also save a huge amount of money to the NHS," she said.
She explained the Scottish Government was aware that clinicians in Dundee were currently exploring the purchase of equipment and there were discussions are ongoing with NHS Scotland National Services Division about the development of a service.
Mrs Grant added: "Mary Ramsay asked me to make a plea to this committee to keep pushing for the technology to be available here. She says: 'For me, and my part, if focussed ultrasound helps anyone to avoid what I went through, I will fight to my last breath to get it'. That is a measure of the petitioner to be honest. This is not going to benefit her, but she will not let up in making sure that nobody has to go through what she went through."
The committee members, including Caithness, Sutherland and Ross MSP, Gail Ross, and North East MSP, Tom Mason, who has Parkinson's, agreed they wanted to hear more about the treatment and backed keeping the petition open.
Mrs Ramsay (64) has Essential Tremor and has undergone Deep Brain Stimulation (DBS), where electrodes are placed in her brain to help alleviate the condition.  Focus ultra sound is cheaper and less invasive. However, Mrs Ramsay would not benefit from focus ultrasound as it would be too risky to reverse DBS. Her condition causes involuntary and rhythmic shaking and can affect almost any part of the body.
Fundraising for the equipment is being run by the University of Dundee. The technology uses MRI imaging to guide high powered, focused ultrasound to a very small point. At that point, molecules are vibrated extremely quickly, which creates intense local heat which destroys the tissue. The technology allows clinicians to target a very specific focal point – with very little heating produced in front of and behind that point, so only the targeted tissue is affected.
Essential tremor [ET] has no known cause. It is most common in the elderly but two-thirds in a recent survey developed symptoms of ET before the age of 50. ET affects both sexes and all ethnic groups and children.
People with ET may be so embarrassed by their tremor that they do not leave their home and become depressed. This embarrassment may impact on jobs and income. As many as 25% of patients are forced to retire prematurely, and in one study 60% said they had chosen not to apply for a job or promotion because of uncontrollable shaking. In a recent UK survey by the National Tremor Foundation, almost 20% of respondents had to stop working completely, 7% had to change occupation, and 6% had to reduce their working hours. In that survey, 12% said that they did not go out to socialise, 31% did so rarely, and 45% did go out but felt self-conscious. Only 12% said that their tremor did not significantly impact their social life. 18% of respondents felt that they were a burden on their family, 21% reported a severe impact on their mental health, 26% reported poor self-esteem, and 15% considered that ET had negatively affected their physical fitness. If the tremor becomes severe, the patient even may become unable to feed or toilet independently and require residential care or a carer at home.
At present, the only non-pharmacological treatment for severe tremor that is having an unacceptable effect on someone's quality of life is deep brain stimulation (DBS): as DBS is invasive surgery in which wires are permanently inserted into the brain, some people are not suitable for it because of other diseases (comorbidities) and some do not feel able to consent to a procedure which involves permanent implants and lifelong supervision.