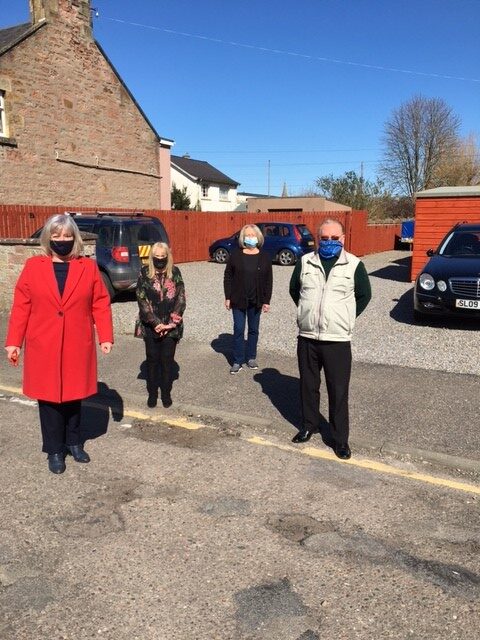 Residents in Montague Row, Inverness, have contacted Scottish Labour's Inverness and Nairn candidate, Rhoda Grant, about the state of their road which is being used as a rat run by motorists.
Vera Gawith was first to call Rhoda after months of putting up with the potholed road and neighbours Margaret Renfrew and Ron Hughes joined in.
Ron explained within days of the potholes being filled by Highland Council, they are being eroded with larger vehicles using the road as a short-cut trying to avoid the traffic lights at Tomnahurich Street.
"I would say from about 6.30 in the morning you can hear the racket as they come down their 4x4s with trailers and they just bump down into the holes," said Ron.
"The council are just patching the job as there is more work planned in the area before tarmac can be put down, and, I understand that, but after a few days the potholes are back.
"Stones are being thrown up too and it's not safe to park the car here anymore.
"Certainly, I feel the central belt get everything when it comes to funding and we are forgotten about up here!"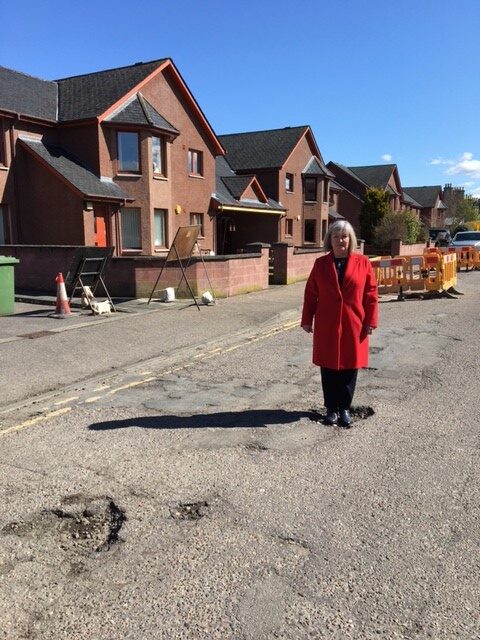 Rhoda has already lambasted the SNP Government for a long-term campaign of starving Highland Council of cash, leaving a huge hole in the budget for road repairs and maintenance.
Although millions are being ploughed into road repairs by the local authority, it equates to just £1,000 a kilometre.
"What I'm hearing from residents across the constituency is that the state of the roads is a real issue," said Rhoda, who is also Scottish Labour's Highlands and Islands lead candidate on the regional list.
"The council is trying to fire fight, especially after the pandemic, but it has limited resources and a huge backlog.
"I am very concerned about the state of the roads, with many photos being posted of crumbling edges and huge potholes and it's not just in Inverness.
"The SNP Government comes back with the usual 'we've given councils plenty of money, so they are responsible' and it does the usual of washing their hands of it. It's really a disgrace."
She will be contacting Highland Council again and also the Scottish Government to highlight the problem.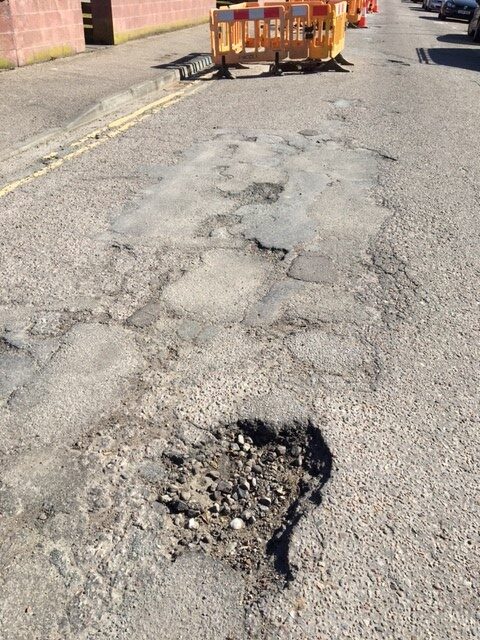 Vera Gawith explained that it wasn't only motorists using the stretch as a rat run, but also the speed of the vehicles coming down the road too.
"It's a wonder there hasn't been an accident with people avoiding the potholes and avoiding drivers going too fast," she added.
Meanwhile, neighbour Margaret Renfrew said that she has already had to buy a new tyre due to damage caused by another pothole in another Inverness street.
"I just cannot afford to buy new tyres. I've also lifted a big bit of concrete being thrown out of one of the potholes and put it to one side because I thought it was unsafe to leave it in the road. It's a disgrace. It's been going on for too long."
Photo left to right, Rhoda, Margaret, Vera and Ron in Montague Row