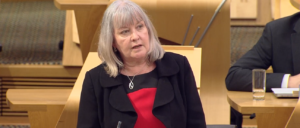 Highlands and Islands Labour MSP, Rhoda Grant, has called for "an urgent rethink" on plans to close Uig pier on Skye for at least six months from October with devastating effects for the economies of Harris and Uist.
Mrs Grant hopes to raise the issue at Holyrood on Thursday when she already has a question tabled about capacity on the Uig-Tarbert-Lochmaddy routes.
She said: "It is madness to press ahead with the closure of Uig for at least six months when it is absolutely clear that no acceptable arrangements are in place to protect the islands' economy and the basic need for people to travel between islands.
"I have asked the Scottish Government to reconsider the case for a temporary linkspan which I am assured is perfectly feasible but has so far been ruled out on grounds of cost. That has to be re-visited in the light of what their alternative is clearly going to cost the Western Isles economy".
Mrs Grant urged constituents to sign the petition initiated by Harris councillor, Grant Fulton, which calls for either acceptable measures to be put in place or for the work at Uig to be postponed until a solution is in place.