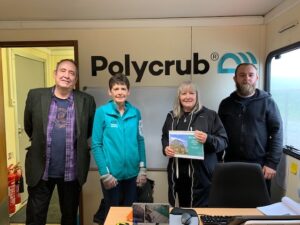 I headed to the north of Shetland mainland with Cllr Tom Morton and met up with the folks from Northmavine Community Development Company to hear about their plans for the area. I heard about the waste saving benefits of the Bruckland Recycling facility and was fascinated to hear about the polycrubs that are popping up all over mainland Shetland and beyond.
Maree Hay, Managing Director, and Harry Haslam, Business Development Manager explained that these polytunnel/greenhouses are designed, using polycarbonate sheeting, to withstand the Shetland weather. They were certainly put to the test when I was there as the rain battered down on us!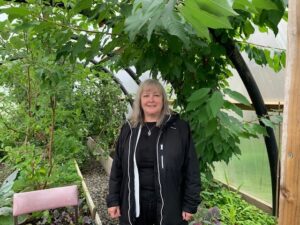 Polycrubs are great personal and community assets with this one at Hillswick Health Centre available for community use, encouraging people to grow their own produce while also offering a great resource to help maintain good mental health and wellbeing.