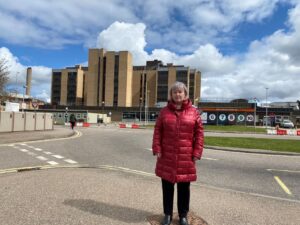 Scottish Labour has branded the oncologist shortage in NHS Highland a "scandal" as the Health Board reveals dozens of patients have had their cancer treatment plunged into chaos.
Yesterday at First Minister's Questions Scottish Labour leader Anas Sarwar raised the case of Malcolm Graham, a 76 year old man in Lewis who was told his cancer treatment couldn't begin due to a shortage of oncologists.
NHS Highland has since revealed that in total 78 patients are now without a consultant oncologist and can expect "delay and disruption" to their treatment due to this acute workforce crisis.
Chemotherapy has been suspended for anyone not under the clinical supervision of a colorectal oncology consultant, and 13 patients currently waiting for chemotherapy will not be able to start treatment.
The Health Board are currently "unable to advise our patients of when their chemotherapy treatments will be offered".
NHS Highland raised this issue with the Scottish Government in April, but the government only wrote to boards this month saying a solution should be developed – with no indication of when this will happen.
NHS Highland have already sought help from other centres in Scotland, but they are also affected by a shortage of oncologists.
Commenting, Scottish Labour Health spokesperson Jackie Baillie said "This is a travesty for those affected and a national scandal.
"Cancer is Scotland's biggest killer and swift treatment is key, but these patients are being left to deteriorate because of a workforce crisis the SNP let spiral out of control.
"This is the devastating reality of the SNP's record – lives at risk and the very founding principles of our NHS under threat.
"The Scottish Government must act now and help NHS Highland through this crisis before patients pay the price."
Scottish Labour MSP for the Highlands and Islands Rhoda Grant said "It is a disgrace that cancer patients in the Highlands and Islands have been so badly abandoned by the SNP.
"NHS Highland has clearly been sounding the alarm for months, but the SNP government doesn't seem to grasp that this is a matter of life and death.
"The Scottish Government must show some leadership and work with NHS Highland to deal with this crisis and get these life-saving services running again."