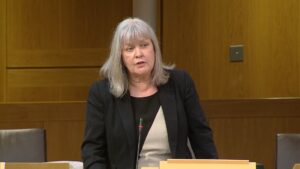 Highlands and Islands Labour MSP, Rhoda Grant, has tabled a motion in the Scottish Parliament congratulating the Inverness Courier on winning News Media Association's Making a Difference award 2023 for its Dual The A9 campaign.
Rhoda Grant said "The Courier has done a fantastic job in raising awareness of the desperate need to dual the A9.
"The Scottish Government promised the road would be dualled by 2025 and then promptly kicked it into the long grass. Meanwhile families continue to be left devastated by the deaths of loved ones who have lost their lives on this road.
Mrs Grant concluded "The Inverness Courier is ensuring the voices of the people in the Highlands and Islands is being heard and I wholeheartedly congratulate everyone involved in continuing to bring this to the government who must now make this their top priority."
The text of Mrs Grant's motion is below:-
Motion Number: S6M-11098
Lodged By: Rhoda Grant
Date Lodged: 03/11/2023
Title: Inverness Courier Wins Top National Award for its Dual The A9 Campaign
Motion Text:
That the Parliament congratulates The Inverness Courier on winning the News Media Association (NMA) Making a Difference award 2023 for its Dual The A9 campaign; notes that the NMA acknowledged the campaign's viral front page, which it understands gained over a million views; considers that the campaign is well-informed and engaging, and that it effectively highlights the need for the road to be dualled; notes that, as part of the campaign, the team at The Inverness Courier organised a leadership debate at which the issue of the A9 was raised, organised an A9 Crisis Summit in Inverness, and has provided a dedicated section on its website; acknowledges that the campaign has been hailed by the NMA as an exemplary instance of the essential role that journalism plays in society, in shining a light on such an important cause; commends the team members at The Inverness Courier, who, it understands, have vowed to continue the campaign until the A9 is dualled, and congratulates everyone involved for their work in keeping this issue in the spotlight.