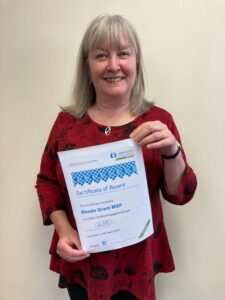 Highlands and Islands Labour MSP, Rhoda Grant, has said she is 'delighted' to have been recognised as a Carer Positive Engaged employer.
Carers Scotland, who administer the scheme, believe being recognised as a Carer Positive employer helps with issues related to workforce management and employee engagement, as well as wider social responsibility aims.
They state that the benefits to employers of having 'carer friendly' policies and working practices can include reduced levels of stress, reduced sickness absence, lower recruitment and training costs, increased staff morale and productivity levels.
Commenting on receiving the award, Mrs Grant said "I have always sought to be a supportive employer and I try to be flexible with my team as I know that adopting a flexible approach to working hours and practices, ultimately leads to having a happy and valued workforce.
"I believe adopting this approach also brings huge benefits to me as my team repay me with effort over and above what is expected of them."
In awarding Carer Positive Engaged status, Sue McLintock from Carers Scotland said "I am delighted to confirm that Rhoda Grant MSP meets the criteria to be recognised as a Carer Positive Engaged employer.
"It is clear that the office operates a supportive and empathetic working culture, and this is certainly highlighted in the carer testimonials. It really shows the difference in reality that a supportive and flexible working environment makes."
Mrs Grant continued "It is important to take account of employees caring responsibilities, and to try to accommodate this whenever possible.
"The pandemic forced a lot of organisations to look at their workplace practices and to adapt accordingly to blend work with employees' personal caring requirements and, as such, the standard '9 to 5' routine is becoming a thing of the past as employers and employees seek more flexibility in the working week."