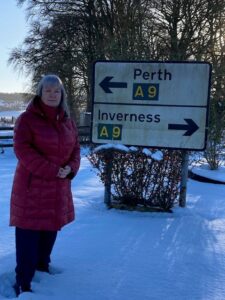 Scottish Labour have accused the SNP of doubling down on their broken promises on the A9 after the Scottish Government voted against Labour's amendment calling for the project to be progressed as a matter of urgency.
The party said the vote exposed the SNP's "empty promises" on the A9.
Meanwhile, Fergus Ewing broke the party's whip to back Labour's amendment.
Commenting, Scottish Labour Transport spokesperson Neil Bibby said:
"The SNP claimed they were still absolutely committed to dualling the A9, but today they have abandoned these empty promises by voting against their own position.
"It is shameful that the SNP-Green government have refused to acknowledge that this deadly road needs upgraded as a matter of urgency.
"The SNP are putting their coalition deal with the Greens ahead of Highland communities.
"This vote is just the latest example of the chaos and splits engulfing this out-of-touch SNP government."
Highlands and Islands Labour MSP, Rhoda Grant, who also spoke to the Petitions Committee earlier today, urging a Parliamentary Inquiry into this betrayal said:
 "None of the Highlands and Islands SNP MSPs spoke in the debate. Indeed it was MSPs from Greenock & Inverclyde, East Lothian and East Kilbride who spoke from the backbenches for the SNP.
"SNP Highlands and Islands MSPs have abandoned the Transport Minister over the A9. The Scottish Labour Party with its amendment was looking for confirmation from the Scottish Government that they remained committed to dualling the road but they voted against their own stated position.
"Communities throughout the Highlands and Islands are outraged, and rightly so. The SNP-Green Scottish Government now needs to apologise to these communities and come clean about their future plans for the A9."
Scottish Labour's Amendment
S6M-07977.1 Neil Bibby
As an amendment to motion S6M-07977 in the name of Graham Simpson (A9 Dualling), insert at end "; notes the statement made by the Minister for Transport on 8 February 2023 that the Scottish Government is still 'absolutely committed' to dualling the A9, and believes that this project is a priority and should be progressed as a matter of urgency."