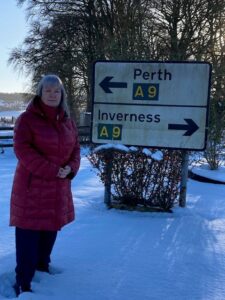 Highlands and Islands Labour MSP, Rhoda Grant, has described the evidence given to the Citizen Participation and Public Petitions Committee this morning by the former Cabinet Secretary for Infrastructure and Capital Investment, Alex Neil, as 'blistering'.
Mr Neil, who was appointed as Cabinet Secretary for Infrastructure and Capital Investment after the 2011 election, gave an overview of why they took the decision in 2011 to dual the A9 by 2025 and to upgrade the A96 by 2030 and advised how he asked Transport Scotland Officials to give him a realistic date of when the A9 could be dualled and was given the date of 2025.
He had responsibility for the National Infrastructure Investment Plan due for update later in 2011 and with regards to the roads budget, he advised that he looked at ways in which the SNP's Manifesto commitments of 2007 and 2011 to dual the A9 and upgrade the A96 could be implemented.
The former Cabinet Secretary advised that he set a strategic objective for Transport Scotland and for the (Scottish) Government that at the earliest possible opportunity they should link the 7 cities in Scotland (at the time) either by dual carriageway or motorway. He asked officials to come up with plan to achieve that objective and asked for the earliest date the A9 could be dualled taking into account the physical and financial considerations of such a project including purchase of land etc. Mr Neil advised that he asked officials to be "realistic but ambitious".
Due to the preparatory works that would be needed including the acquisition of land etc, they looked at the period from 2015 – 2030 for construction works to be done. Mr Neil advised that it was estimated that there was £14.7billion of capital funding unallocated at that time. He said it was a working assumption that the cost to dual the A9 and A96 was £30million a mile and it would take £6bIllion between the A9 and the A96 – 40% of the budget that was available at that time.
Rhoda Grant said "The former Cabinet Secretary emphasised that Transport Scotland officials assured him that, both physically and financially, it was perfectly feasible to dual the A9 between Inverness and Perth by 2025 and to upgrade the A96 between Inverness and Aberdeen by 2030.
 "He stressed that road safety was a major consideration in the decision and he cited the 335 fatalities since 1979 and another 13 last year."
Mr Neil has access to papers in relation to the roads during his period as Cabinet Secretary and on 28 May 2012, at his request, he received a detailed memo from a senior official at Transport Scotland which details the timescales for completion section by section. He strongly suggested the Committee demands access to this paperwork.
Mr Neil said he was extremely disappointed at the delays which is damaging to the Scottish economy and far more damaging to the Highlands and Islands that this well thought out project has not been completed, let alone completed on time.
Mrs Grant continued "When it was suggested to the former Cabinet Secretary that "something happened" and he was asked if there was resistance to the principle underpinning the decision from Transport Scotland or elsewhere Mr Neil emphasised that he asked officials for the date of when it could be done and the Finance Department, under John Swinney, confirmed the money would be there. He advised that there was no question in his mind that it was official advice that it could be done within the timescales specified."
"Alex Neil said that while the pandemic could allow for a delay of a year or 18 months, up until then there was, in his view, "no excuse for having missed these deadlines."
Mr Neil advised that he was reshuffled to Heath in September 2012 and Nicola Sturgeon took over the brief. He advised that one of the reasons he asked for a specific programme for each section was that he knows how bureaucracy works and you have to sometimes "nail down your advisors" to make sure there is no wriggleroom for excuses and delay.
Rhoda Grant continued "For Alex Neil to say on record that he thinks "there was a mentality, and it might still be there, that the Highlands and Islands was seen by some people maybe as peripheral." is a shocking indictment on this government."
 He advised that one of the reasons Inverness has become one of the fastest growing cities in Europe is because people were expecting the connections would be there and if the dualling had been nearing completion it would have been growing even faster. He stated that the A82 badly needs upgraded and connectivity between Glasgow and Oban needs to be looked at to open up Argyll. The former Cabinet Secretary said "The lack of ambition is mindnumbing quite frankly."
Mr Neil said he double checked that what they were planning was well within the capital programme and had it been built on time, the costs for the A9 would probably only have been 2/3 of the projected £3billion budget but "because we've stalled, because we've delayed, because we've put it on the back burner, because we've betrayed our promise to the people of the Highlands and Islands, and Scotland, because this is important for Scotland as well as the Highlands and Islands because of all that when we eventually get to do it it's probably going to cost up to £1billion more that it need have done because of these delays."
Mrs Grant concluded "Alex Neil has laid bare his blistering evidence and his extreme disappointment at the delays and the lack of ambition displayed by this government. That disappointment is echoed throughout the Highlands and Islands and the Scottish Government must now make the dualling of this road their absolute top priority."