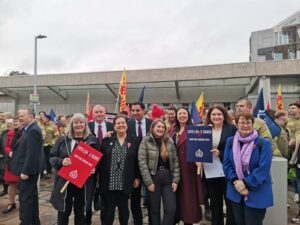 Commenting after First Minister's Questions, Scottish Labour leader Anas Sarwar (seen here supporting the Fire Brigades Union Rally outside the Scottish Parliament this morning) said "Fire service cuts are putting lives at risk but the First Minister is burying his head in the sand.
"The Fire Service budget is set by this Government and it has fallen by 22% in real terms over the past decade, putting 780 firefighter posts are at risk.
"This would have an impact on response times and when fighting a fire, every second counts.
"In the past ten years hundreds of fire fighters have been lost.
"Now, a dozen appliances are being removed and the First Minister is ignoring warnings that his Government is putting lives at risk.
"When the single fire service was created the SNP said that it would, and I quote, not result in 'cutting front line services'.
"It's clear now that was either SNP spin or SNP incompetence.
"The First Minister must listen to firefighters on the ground about how to keep people safe."

Notes:- 
Firestorm: A report into the future of the Scottish Fire and Rescue Service https://www.fbu.org.uk/sites/default/files/publications/FBU%20-%20FIRESTORM%20REPORT%20-%20FINAL.pdf