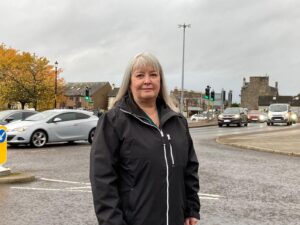 Highlands and Islands Labour MSP, Rhoda Grant, is 'asking questions' about the location of the traffic lights outside the Aldi store on Friar's Bridge.
Having been contacted by a constituent about concerns that the lights were too close to the Telford Street roundabout, former Labour MSP, David Stewart, raised the matter with the Scottish Government in 2018/2019 however the onset of Covid in early 2020 stalled any progress and Mr Stewart retired in 2021.
Picking up the baton, Mrs Grant said "There are arguments for not moving the lights beyond the Aldi junction, however what concerned residents want to see are the lights moved back slightly, to just before the entrance to the Aldi supermarket. This would alleviate the concerns that drivers are focussing on clearing the roundabout while still leaving the crossing within an acceptable distance for people to walk to."
Chasing up the matter with Transport Scotland earlier this year, Mrs Grant was told that "The existing pedestrian crossing locations between Longman Road Roundabout and Telford Street Roundabout will be reviewed as part of an Active Travel Scheme for improved pedestrian and cycling facilities along this section of the A82. It is programmed to investigate and design this scheme in 2023/24, with construction in the following years. Construction will be dependent upon available budgets and schemes need prioritised on merit against other proposed Active Travel measures."
Mrs Grant contacted Transport Scotland again this month asking an update on this and if the investigation and design on the scheme has taken place or, if not, when it was expected that this will take place within the 2023/24 timeframe previously specified.
The MSP was told by Transport Scotland that "The active travel scheme between Longman Road Roundabout and Telford Street Roundabout is currently on hold as the Highland Bus Partnership are undertaking work to look at potential bus priority and active travel on the A82 Longman Road as well as supporting mobility hubs, or park and rides, using funding from Transport Scotland's Bus Partnership Fund." Transport Scotland further advised that since they last wrote to the MSP, "the extent of proposals being looked at have been refined and do not extend as far as the junction of concern" but "Transport Scotland has instructed BEAR to investigate and recommend what measures can be implemented in the short-term to alleviate the concerns".
Rhoda Grant continued "I understand that feedback from a public exhibition held by Transport Scotland in the Cameron Youth Centre on 30 August 2018, highlighted that some of the 100+ people who attended the exhibition also voiced concerns about the closeness of the lights to the roundabout. The plan then was to include consideration of relocating the controlled crossing or upgrading the path underneath Friar's Bridge and I will be keeping a close eye on the investigations that have been promised to make the area safer for pedestrians and cyclists.