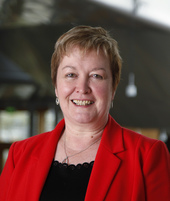 Highland and Islands Scottish Labour MSP, Rhoda Grant has written to the U.K. Government Secretary of State for Work and Pensions, Thérèse Coffey MP to raise concerns about constituents across the Highlands and Islands who may be missing out on the Warm Home Discount Scheme.
The discount can result in a £140 reduction for electricity bills for winter 2019 to 2020. The money is paid directly to the suppliers and is a one-off discount on electricity bills, between September and March. Utility customers may also be able to get the discount on gas bills instead if the supplier provides both gas and electricity.
There are 2 ways to qualify for the Warm Home Discount Scheme; if someone is in receipt of the Guarantee Credit element of Pension Credit – known as the 'core group' or if someone is on a low income and meet your energy supplier's criteria for the scheme – known as the 'broader group'.
Only those customers who's energy supplier is registered with the U.K. Government for the scheme are able to apply, meaning customers of smaller energy firms or those not currently registered with the scheme may be missing out.
The deadline for claiming is Tuesday 31st of March, so making a claim as soon as possible is important.
Commenting, Rhoda Grant MSP said:
"One in every four homes in the Highlands and Islands are living in fuel poverty, and one in ten are living in extreme fuel poverty, where they have to spend more than 20% of their household income on energy.
"We know that the region also suffers from some of the harshest weather conditions in the country and many homes unfortunately have poor insulation and as a result suffer from disproportionately high levels of fuel poverty.
"The Warm Home Discount Scheme has the potential to save homes across the Highlands and Islands up to £140 on their winter fuel bills, however, I am concerned that due to the eligibility criteria many households may be missing out.
"The U.K. Government must provide further details about how they are helping customers who's energy suppliers are not registered with the scheme and also provide greater details about what steps they taking to extend protections to vulnerable customers who may be missing out on vital help with winter fuel costs."