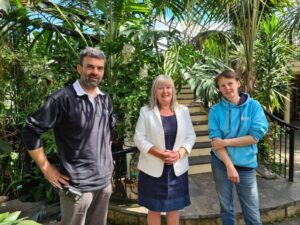 I was delighted to visit Highlife Highland's botanic gardens in Inverness and was amazed by the additional projects this charity offers. I was shown round their orchard and nursery and their fantastic GROW and BEE projects.
Trainees and volunteers help run the projects and all of the produce which is grown on site is then sold to the visiting public, used in their adjoining café and donated to a local Foodshare facility.
Promoting good health and wellbeing are two of the fundamental aims of this fantastic charity and I was really grateful to Ewan Mackintosh (Manager), Rona Macfarlane (Horticultural Trainer GROW project) and Steve Walsh (Chief Executive) for their time and hospitality.