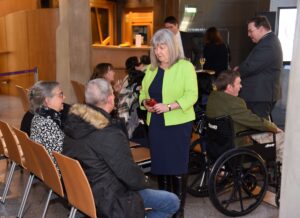 On Wednesday 22nd March 2023, Rhoda Grant MSP attended the first Scottish Parliamentary reception for motor neuron disease (MND) in more than three years.  The reception marked the anniversary of the launch of MND Scotland's report No time to lose: Addressing the housing needs of people with MND, which highlights that, despite MND being a rapidly progressing terminal illness, people affected wait too long for the adaptations and accessible housing they urgently need.  The report has several government recommendations and the reception was an opportunity to highlight that, a year on, little progress has been made.
MND Scotland's event, which took place in Garden Lobby of the Scottish Parliament, was hosted by Bob Doris MSP. Key speakers included Bob Doris MSP, Marie Cartwright – whose husband Ian died of MND in 2019, MND Scotland Chief Executive Rachel Maitland, and the Cabinet Secretary for Social Justice, Housing and Local Government, Shona Robison.
More than 100 guests were in attendance, 70 of whom had been directly affected by MND. They were joined by MSPs, Scottish Government ministers and members of MND Scotland's staff and Board of Trustees.
The Cabinet Secretary, addressed the reception, acknowledging the importance of fast-track, simpler and flexible processes for people with illnesses like MND when they try to secure adaptations and accessible homes.  She stated that that she was unhappy with the pace of change achieved since the launch of the report and would reach out across government to improve progress.
Rhoda Grant MSP said: "I was delighted to be able to attend MND Scotland's reception. The event was a great opportunity to raise awareness of this devastating disease, the impact that housing issues have on individuals and families and to talk to people affected by the illness about how we can support them.
"MND Scotland's report 'No time to lose: Addressing the housing needs of people with MND', highlights the need for people with MND to be fast-tracked and prioritised for adaptations and accessible housing. I pledge to work alongside MND Scotland to help create much needed change for those living with MND."
Rachel Maitland, MND Scotland's Chief Executive, said: "MND's rapid progression means people become increasingly disabled. This makes moving around homes safely, more and more difficult. As a result, people with MND often need adaptations to their home, such as ramps and wetrooms, and they need them fast. If adaptations can't be made to the property, they need an alternative accessible home.
"Speed is key when you have an illness like MND. People with MND need to be prioritised and fast-tracked but those who took part in our research told us that this is not happening. We need change now.
"I'd like to thank all of the MSPs who came to our reception to hear first-hand about the experiences people with MND are facing and I look forward to working with you."
 To find out more about MND Scotland's report visit www.mndscotland.org.uk/housing.
About MND Scotland 
MND Scotland's vision is a world without motor neuron disease (MND). Until that day comes, we are here to make time count for everyone affected by MND in Scotland. We support people living with MND and their loves, campaign for lasting change to make living with MND easier and fund ground-breaking research and world-class clinical trials to find a cure.
More at mndscotland.org.uk.
About MND 
Motor neuron disease (MND) is a brutal terminal illness affecting the nerves that control our muscles. It can rapidly strip a person of their ability to walk, talk, swallow, and breathe. Most people live for between one and two years after a diagnosis, but almost half will die within a year. As it stands, there are no meaningful treatments for MND, and the impact of a diagnosis on individuals, families, and wider networks is devastating.
Key stats
Someone's lifetime risk of getting MND in 1 in 300
Average life expectancy is just 18 months from diagnosis
30% of people with MND die within 12 months
On average almost 200 people are diagnosed each year in Scotland, and around 200 people will die each year
There are approx. 400 people in Scotland currently living with MND