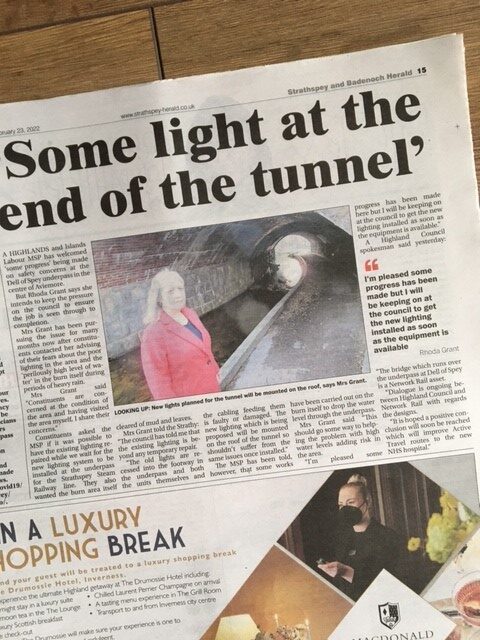 Highlands and Islands Labour MSP, Rhoda Grant, has welcomed some progress being made regarding safety concerns around the railway underpass in the centre of Aviemore but says she intends to keep the pressure on the council to see the job through to completion.
Mrs Grant has been pursuing the issue for many months now after constituents contacted her advising of their fears about the poor lighting in the area and the perilously high level of water in the burn itself during periods of heavy rain.
Rhoda Grant said "Constituents are concerned at the condition of the area and having visited the area myself, I share their concerns.
Constituents asked if it was possible to have the existing lighting repaired while we wait for the new lighting system to be installed and they wanted the burn area itself cleared of mud and leaves.
"The council has told me that the existing lighting is beyond any temporary repair. The old lights are recessed into the footway in the underpass and both the units themselves and the cabling feeding them is faulty/damaged. The new lighting which is being proposed will be mounted on the roof of the tunnel so shouldn't suffer from the same issues once installed." she said.
The MSP has been told however that some works have been carried out on the burn itself to drop the water level through the underpass. She said "This should go some way to helping the problem with high water levels adding risk in the area.
She continued "I'm pleased some progress has been made here but I will be keeping on at the council to get the new lighting installed as soon as the equipment is available."
Picture courtesy of Strathspey and Badenoch Herald.